Sec­ond-grade Mat­tie exchanges a series of Valen­tine gifts with her "secret friend," Jeb the class clown, who is her secret admir­er. She finds a way to have some­one else babysit her broth­er Emmett dur­ing spring vacation—and then real­izes she miss­es him. Mat­tie and Jeb build a tree­house in the glo­ri­ous sum­mer­time. A fun ear­ly chap­ter book.
t's just Mat­tie's luck to get stuck with Jeb, the sec­ond grade's class clown, as her secret Valen­tine's pal. She uses the oppor­tu­ni­ty to pay him back for his many past dirty tricks, but her own prac­ti­cal joke back­fires. Despite a pre­dictable end­ing, this first chap­ter will lure even reluc­tant read­ers. In the oth­er two, Mat­tie sells her lit­tle broth­er, Emmett, and then tries to buy him back, and she gives him a hair­cut. Chall is adept at sit­u­a­tion­al humor, but she does­n't just play for laughs. She respects her char­ac­ters; the love-hate rela­tion­ship between Mat­tie and Emmett is con­vinc­ing­ly devel­oped in a few short pages. Many an old­er sib­ling will iden­ti­fy with Mat­tie's ini­tial relief at sell­ing Emmett. A promis­ing debut. (School Library Jour­nal)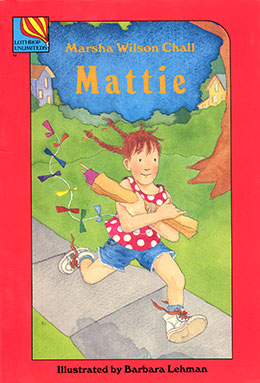 illus­tra­tor, Bar­bara Lehman
Lothrop, Lee & Shep­ard, 1992
ISBN 978–0‑68809–7301
ages 4 and up
46 pages
Look for this book at your favorite library or used bookseller.